Black Cap Community Benefit Society
Reopen The Black Cap.
The Black Cap in Camden, north London, has been serving LGBTQ+ community and culture since the days when it was illegal to be gay. The history of this iconic LGBTQ+ pub, club and performance venue stretches back decades if not centuries and is known around the world. 
Despite its continued popularity and success, the Cap was closed abruptly in April 2015, after Camden council rejected its then-owners' plans to develop the site into luxury flats.
A grassroots campaign called #WeAreTheBlackCap began, rallying around the demand that the whole building must remain an LGBTQ+ pub, nightclub, cabaret, and community space named the Black Cap.
Ever since then, we have been fighting for the Cap – to resist the erasure of one of the LGBTQ+ community's few pre-1967 historical, cultural, and artistic landmarks, and to ensure it reopens as a safe, vibrant place of LGBTQ+ entertainment and connection fit for the 21st century.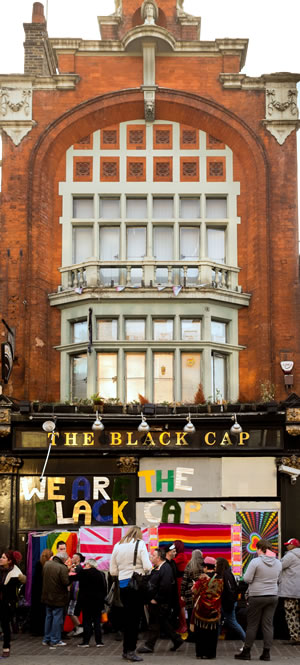 How can I help?
Support the Campaign
What's happening?
Latest Campaign Updates